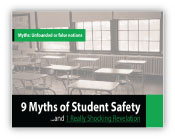 Unfortunately, when it comes to Student Safety there are way too many myths.
This document, written by Awareity's CEO and Founder Rick Shaw, shares real evidence from incidents, tragedies and lessons learned to help all school and college administrators realize how Student Safety myths are putting their students, faculty, staff, community, reputation and bottom line at risk.
To review full briefing, please click here to fill out our Resources request form.