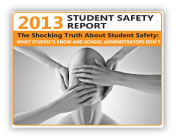 Earlier this month, Awareity released our 2013 Student Safety Report – What Students Know and School Administrators Don't.
To request the full report click here.
The findings outlined in the report provide administrators with the validations and evidence they need to justify immediate action.
Just think how much safer every school would be if all students were equipped with the right tools to report incidents and concerning behaviors.
Just think what a difference it would make if School Officials were equipped with the right tools to collect information, connect all the right dots, investigate, perform threat assessments, intervene, monitor, and proactively prevent reports from escalating into more serious incidents or tragedies?