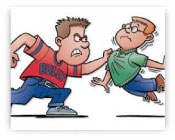 I am being bullied.
I talked to my school and nothing happened.
What can I do?
This student guide has been created to help you and your classmates make a real difference with proactive actions…
This is not your average bully guide…We will not tell you "kids will be kids" or "bullying is a rite of passage".
To request your guide, click here.