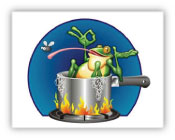 Frogs, Excuses and Budgets
Most everyone has heard of the Boiling Frog Syndrome….
When a frog is dropped in boiling water it will jump out…but when a frog is placed in cold water that is gradually heated, it will not perceive the danger and will be 'cooked to death'.
The same is true for Schools and Colleges (and other organizations too) failing to recognize the impact of a gradual rise in risks, threats, incidents, headlines, settlements and tragedies.
As student safety incidents and tragedies become more common in the headlines, several common excuses from School Officials and College Officials indicate many may not be perceiving the increasing dangers:
"We are just maintaining at the moment."
"We are not seeing any bullying problems at our school."
"We don't have a sexual assault problem at our college."
"We are too busy to look at something new right now."
"Our staff and school officials are already overwhelmed right now."
Do you see what I mean? Can you feel the temperature rising??
Most school officials are failing to notice the "rising temperature" of bullying and are shocked to find out 85% of their students are experiencing or witnessing bullying? (2013 Student Safety Report)
55 colleges are currently under federal investigation for failing to recognize the "rising temperature" of sexual assaults on their campuses. (Department of Education press release)
We are too busy? Surely School Officials are not too busy for Student Safety and saving a student's life?  This excuse demonstrates just how real the boiling frog syndrome has become and shows how school officials and college officials are "frantically swimming around as more and more hot air bubbles appear"…which is what happens just before the water starts boiling and the frog gets cooked.
When it comes to the Prevention Gapidemic and the Boiling Frog Syndrome, perhaps the worst excuse of all is:

"We have no budget."
Evidence-based data clearly reveals the best way to "save your budget" is to PREVENT rather than REACT.
Schools and Colleges are currently spending millions and millions on REACTING.  Security alarms, cameras, special locks, special doors, special walls, special rooms, active shooter response training, etc.  However, for a fraction of their security budget spent on REACTIVE products and services, organizations could buy a next generation prevention platform and start PREVENTING.
For example, for the cost of a couple cameras (cameras prevent little to nothing as they only record what already happened), a next generation prevention platform would have equipped every student and adult (students and adults are walking talking cameras, but only if you plug them in so they can report what they see and hear) to report pre-incident indicators so the right people with the right tools can PROACTIVELY PREVENT. (You can see several prevention success stories here)
Another example involves two schools that are about the same size.  One boasts about spending $20,000,000 on new security products and systems and another spent less than $10,000 on a next generation prevention platform.  The school that spent $20M is loaded up on REACTING to threats at their door and the other school has proactively prevented multiple student safety related incidents and tragedies including a targeted shooting, suicides, violence, bullying and more.
Evidence also reveals that Schools and Colleges will reduce their "operational costs" too because a next generation prevention platform allows them to eliminate status meetings, make intervention meetings more effective, eliminate paper-based and spreadsheet-based processes, reduce time spent on investigations and information sharing, reduce errors and duplicated efforts, automate documentation, make sure at-risk kids don't fall through the cracks and more.  http://www.cnn.com/2014/05/13/living/bullying-frustrated-parents-video/index.html?hpt=hp_c3
Even the old axiom from Ben Franklin – "an ounce of prevention is worth a pound of cure" reveals the best way to save money, time, resources and lives is PREVENTION.
After an incident or tragedy, when schools, colleges, organizations and communities add up the costs of REACTING, they learn the hard way their costs (hard costs, soft costs, emotional costs, short-term costs, long-term costs, etc.) to respond to reputational damages, lawsuits, loss of life, loss of assets, audits, resolution agreements and many other knee-jerk reactions were very expensive.  And almost every post-event report reveals the incident or tragedy was preventable – which means those very expensive costs could have been prevented and their budget saved.
After all the lessons learned and cooked frogs, no School or College Official should ever use "we have no budget" as an excuse when it comes to student safety.
How many student lives do we have to lose or allow to be ruined before we realize that preventing is not expensive…but reacting is very expensive?