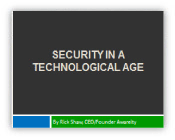 2015 Nebraska Schools of Banking – Banking Fundamentals presentation, "Security in a Technological Age" by Awareity's President and CEO Rick Shaw.
Presentation:
Examines examples of information security/privacy risks
Reviews technological, procedural and people related security issues faced by financial institutions
Explores the latest technologies and threats with regard to information security and privacy
Understands the information security requirements as defined by numerous regulations and national standards
To review presentation, click here. For questions, contact info@awareity.com.