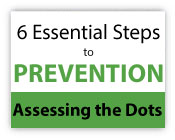 As mentioned in Part 3 of this blog series, Awareness is the first step in the 6 Essential Steps to Proactive Prevention and Collecting the Dots is the second step.
Step 3 is Assessing the Dots.
What does Assessing the Dots involve?
Assessing the Dots involves several important steps, roles, responsibilities and processes that should be assigned to and performed by individuals on an organization's Threat Assessment Team. The ANSI Workplace Violence Prevention & Intervention Standard defines Threat Assessment as the investigative and analytical process followed by a professional qualified by education, training, or experience to determine the nature and level of risk of violence presented by a person and the steps that could be taken to respond to, manage and mitigate the risk.
Most organizations have named a "Threat Assessment Team", but most organizations have not provided their Threat Assessment Team with:
• Education – on what Threat Assessments involves including laws, standards and guidelines
• Training – on how to actually perform Threat Assessments in many different situations
• Tools – to ensure all critical steps, roles, laws, standards and processes are accomplished

Naming a Threat Assessment team does not mean your organization is prepared and equipped to proactively prevent incidents, lawsuits and tragedies.
Other key efforts in Assessing the Dots includes assessing the situation to determine urgency level, conducting an initial investigation, reviewing all related incident reports and facts, identifying all resources connected with the at-risk individual or situation, collaborating with other Threat Assessment team members in real-time, behavior assessments to assist with identifying potential for violence/aggression and many other efforts depending on the situation.
Behavior Assessments – Another Dangerous Gap?
When it comes to Behavior Assessments, assessing an individual's potential for violence, aggression, harassment, etc., organizations can find this effort to be quite difficult because most organizations do not have an empirically proven way to perform behavior assessments and/or measure the potential of at-risk individuals. Without a proven Behavior Assessment tool, Threat Assessment Teams are left with a bunch of opinions, which are not an effective approach to justify mental health reviews, site visits and many other proactive actions.
Over and over again post-incident reports expose dangerous gaps where people within the organization observed concerning behaviors and even made incident reports identifying those concerning behaviors, but the organizations and their Threat Assessment Team failed to collect the dots, assess the dots, assess the at-risk individual and failed to prevent what post-incident reports and experts found to be a preventable incident, lawsuit or tragedy.
Threat Assessment Team vs. Prevention Team?
Assessing the Dots and Threat Assessment are critical steps in preventing incidents, lawsuits, headlines and tragedies…however evidence-based data and research-based data reveals countless failed preventions because of too many gaps and disconnects in Assessing the Dots efforts and each of the next essential steps – Connecting the Dots, Intervention/Monitoring and Prevention.
The more research I perform and the more lessons learned I gather from post-incident reports, it becomes more and more clear that Threat Assessment Teams are vital to Step 3 (Assessing the Dots) but Threat Assessment Teams are not enough.

Mounting data and more and more prevention failures make a strong case for organizations to create Prevention Teams responsible for ALL 6 Steps…rather just naming Threat Assessment Teams focused on Step 3.
In the Part 5 and Part 6 you will learn how Connecting the Dots (Step 4), Intervention/Monitoring (Step 5) and Prevention (Step 6) efforts are needed to improve your organization's ability to proactively prevent.
To continue to Part 5, click here.