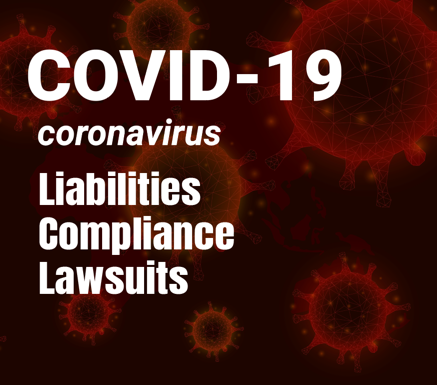 The Coronavirus (COVID-19) is causing a lot of fear, stress, chaos, and confusion with so many different sources of tips, guidelines, apps, etc. While most leaders are currently involved in lots of meetings discussing the immediate actions (suspensions, cancellations, working remotely, online education, safety, health, etc.), it is just as critical to consider numerous other short-term and long-term problems and liablities that need actions and solutions to address:
Awareness & Accountability
Liabilities caused by quick short-term decisions (working remotely, online classes, etc.)
Compliance with Privacy, Safety, OSHA, etc.
Lawsuits from Students, Faculty, Vendors, others
Awareness & Accountability
With employees working remotely and students accessing online education remotely, how will you ensure that everyone in remote locations are operating from the same page, the same guidelines, the same updated policies, the same legal advice, etc.?
Do you have a central, community-wide solution in place that allows you to update policies, procedures, guidelines, etc. as fluid conditions change, notify end users of the updates, and your solution NEEDS to track and document who has seen AND acknowledged they are AWARE of the updates? Unfortunately, conventional webpages, emails, intranets, bulletin boards, can't provide the awareness AND accountability AND legal-ready documentation you will need.
This central, community-wide solution is needed for any organization with employees, vendors, contractors, and other third-party service providers who need awareness AND accountability AND legal-ready documentation.
Long-term Liabilities
Quick decisions can sometimes open a Pandora's Box of liabilities if you're not thinking about longer-term and unintended consequences.  We see lots of coronavirus related decisions being announced in the news every day, but will some of them create liabilities?
For example, think about potential liabilities involving employees working from home, students forced to move out and travel home, students unable to complete their degree on time, students not having access to meals and other on-campus resources, employees and students traveling to public locations to access the internet, etc. What about liabilities related to duty of care, OSHA recordable illness recordkeeping, HIPAA, FERPA, etc.
If you're not considering and addressing these potential liabilities with the right actions and solutions, the consequences could be major.
Meeting Compliance Requirements
Just because it's not business as usual doesn't mean you can forget about compliance rules and requirements. Did you create a single email address for your employees, students, and community members to contact with COVID-19 questions and concerns? Perhaps something like COVID19@yourorganization.com? This could open up MAJOR compliance issues.
What about privacy, confidentiality, open records, and other MAJOR compliance issues that emails can lead to?  Have you considered a secure and encrypted option that is immediately and automatically routed to the right people and meets compliance, privacy, and legal needs?
What if someone discloses their COVID-19 status in an email, and then that email gets forwarded to others?  Have you considered the consequences of violating HIPAA compliance, especially if additional health-related information is sent via email and forwarded to the wrong people?
What about other gaps, silos, and disconnects where the email and sensitive information is not shared and not acted on by the right people (or at all), even though it should have been?
Just because it's not business as usual doesn't mean you can forget about compliance rules and requirements.
Lawsuits Are Coming
Did someone in your office have symptoms but kept coming to work? Did you find out a student may have been exposed but you didn't disclose to anyone right away? Are there students not getting their full education (hands-on, lab time, etc.)? Are you considering canceling graduation ceremonies? Have you had to cancel other important events or conferences?
What about parents, vendors, stakeholders, and others who may decide to sue your organization based on your decisions? Do you have your legal-ready, audit-ready, compliance-ready documentation ready to defend yourself, your organization, and your decisions?
---
These are just a few things leaders need to consider beyond just whether to close a building or cancel an event. Do you have the right solutions in place to address them?
Big data reveals again and again how decisions that create more gaps, more silos, and more disconnects are costly, are you ready for one central solution?
It's time to make sure you're prepared for more than just a quarantine. Let Awareity help you today!