Stage 6: Ongoing Awareness
Do you remember everything from each of the previous emails and the overview of 20+ years of research?
Do you remember all the compliance requirements with Pandemic Phases, OSHA, HIPAA, FERPA, ANSI, and other state and industry-specific guidelines?
Do you know what is working and not working?
Do you know about the most recent trends involving indicators and at-risk individuals in your organization (schools, higher education, health care, financial, retail, etc.) and community?
Prevention is not a one-and-done effort, it requires an ongoing effort. 
Failures & challenges at this stage
When you don't know what you need to know and what others know, or when you can't remember what you need to know, bad things can happen.  Not knowing what you need to know is a gap that applies to every individual in your school, organization, and even your community.
Eliminating and reducing the failures & challenges
The Ongoing Awareness (and Accountability) Stage is where organizations and communities can eliminate the common and dangerous gaps, silos, and disconnects that exist in every organization and community.  The Ongoing Awareness Stage gives you a chance to build awareness so everyone can participate to make your organization and your community as safe as possible, especially with violence, pandemic stressors, political stressors, policing stressors, personal stressors, and numerous other stressors and unknowns. The Ongoing Awareness Stage is where you make sure compliance, accountability, and due diligence responsibilities are known and updated and acknowledged for the new normal – because the new normal will be constantly changing as we go forward.
How does Awareity eliminate the scattered, disconnected, and siloed information to make your Ongoing Awareness Stage successful?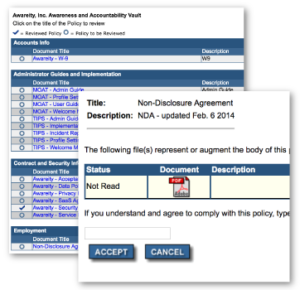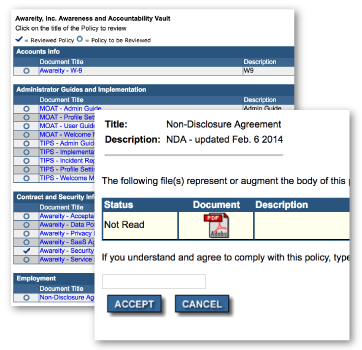 Awareness the other 364 days a year.
Like your anti-virus and automated software patching, the AwareityPlatform helps keep your people (students, employees, community members, etc.) aware of changing threats without relying on a one-time annual training. Awareity's award-winning Awareness & Accountability Vault (AAV) empowers all areas of your organization to not only inform their people but also keep them informed and aware all year round. In addition, the Awareity Platform ensures accountability, and here is how. Most organizations blast out emails or text messages or post a document on your intranet or put a new poster up in the breakroom, but NO way of knowing who knows and NO acknowledgment of accountability (and NO audit-ready or legal-ready documentation). With the Awareity Awareness & Accountability Vault, you have Awareness and Accountability and documentation to prove it.
Awareness no matter where you are.
The new normal has students and employees accessing information remotely, so how can you be sure all your people not only have the information they need, but also understand it? Awareity's Platform helps your team(s) distribute policies, procedures, training materials, reporting forms, and other resources to your people while also ensuring they understand the resources and review them as often as they need to and as challenges and situations change and evolve.
What clients have to say
"WE HAVE BEEN UTILIZING AWAREITY'S PLATFORM FOR OVER FIVE YEARS AND EVERY YEAR WE FIND MORE AND MORE WAYS TO UTILIZE IT TO SAVE MONEY AND IMPROVE OUR EMPLOYEES' AWARENESS."
---