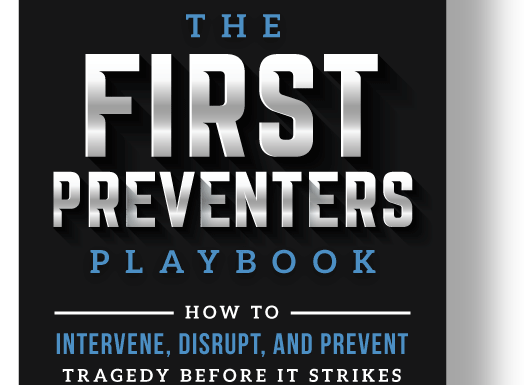 The First Preventers Playbook:
How to Intervene, Disrupt, and Prevent Tragedy Before It Strikes.
Enough is enough! Old playbooks and strategies depend on First Responders (defense), however First Preventers (offense) are needed too. It's time to use a new prevention playbook to prevent more incidents and tragedies, The First Preventers Playbook is just in time to show you how.
LAS VEGAS, NV – "For too long, we have ignored the signs of mass casualty attacks and refused to work together to "connect the dots". Rick has given us a roadmap to do just that," Captain Griger, Sarpy County Sheriff's Office.
Leaders in schools, higher education, organizations, and communities are looking for better prevention solutions, including new playbooks to complement their current strategies. This is where The First Preventers Playbook comes in.
The First Preventers Playbook presents proven research-based approaches to show community leaders, community resources, and community members how to take action (not vigilantly stuff, we're talking the right actions) when faced with soaring numbers of at-risk individuals in communities across the nation. By educating, empowering, and equipping first preventers to collect, assess, and connect the dots and take the right actions to intervene and disrupt at-risk individuals on the pathway to violence (or self-harm, abuse, drugs, hate, etc.), more violent incidents and tragedies can be prevented, and fewer first responders will have to put their lives on the line.
With this playbook, more incidents and tragedies can be prevented leading to a positive return on prevention, saving lives, reputations, and bottom lines. Pre-order your copy from Amazon today for release on October 20, 2020.

###
More about Rick Shaw
Rick Shaw is a prevention specialist, pathway to prevention thought leader, author, and trusted adviser to organizations and communities. He has been researching the profile of failed intervention and preventions for over twenty years. Rick founded Awareity in 2004 and First Preventers in 2019.
Contact Information
Rick Shaw, 402-730-0090, info@RickShawPrevents.com. For more information please email info@RickShawPrevents.com or visit RickShawPrevents.com/contact.