Cawood Assessment Grids
Assessing Concerning Behaviors
Is your organization proactively identifying concerning behaviors and objectively investigating/assessing risk? If not, you may want to start looking at a behavior assessment tool and the Cawood Assessment Grids are a great place to start!
As tragic stories of violence and suicide continue to circulate throughout our nation, schools, colleges and organizations are reviewing their programs for identifying and intervening with students and/or employees who show signs of distress or aggression, and evaluating their policies and procedures for investigating and assessing red flags, suspicious behaviors, violence, risks, etc.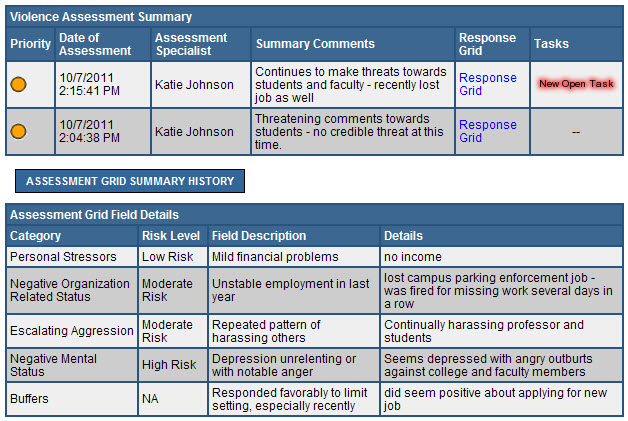 TIPS is helping your teams get information and coordinate and document actions taken, but do your teams have objective procedures for assessing individuals and determining if the incident is a low, moderate or high priority risk? How do you know if a situation is going to escalate?
The Cawood Assessment Grids can be used by Behavioral Intervention Teams and Threat Assessment Teams to improve the way reports are assessed, investigated and responded to ongoing.
Objective Analysis and Prevention
Incident reports can be tracked over time to evaluate the risks/threats within a school/organization. The assessment and response grids provide objective measurements to help your team members determine the best overall response. This tool can help your school/ organization develop clearly de ned procedures for investigating and assessing risks and give you an objective tool to explain why you took the actions you did (with all the documentation to back it up!)
Who is Dr. Jim Cawood?
Dr. Cawood is President of Factor One which is a California based corporation specializing in violence risk assessment and management, threat assessment, behavioral analysis, security consulting, and investigations.
Dr. Cawood has worked in the area of threat and violence risk assessment and management, behavioral analysis, violence prevention, security analysis, and incident resolution for more than 25 years. He has successfully assessed and managed over 4000 violence related cases for federal and state government agencies, universities and colleges, public and private corporations, and other business entities throughout North America. Mr. Cawood has also provided consultation and training to these same types of organizations on the design and implementation of threat assessment, violence risk assessment, and incident response protocols.