Community Preventing and First Preventers White Paper
A World-Changing Resource!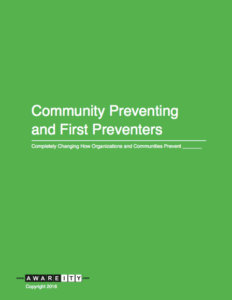 DATA FROM HUNDREDS AND HUNDREDS OF TRAGEDIES, INCIDENTS, LAWSUITS, AND LESSONS LEARNED EXPOSE THE TRUTH ABOUT WHY PREVENTING IS FAILING AT ALARMING RATES IN ORGANIZATIONS AND IN COMMUNITIES:
The "missing and most valuable pieces of the puzzle" for preventing are/were almost always observed by community members (family, friends, social media, etc.) but not shared with the right people (First Preventers)
There are 6 Essential Steps to Preventing, however, the same dangerous gaps and disconnects exist in nearly every organization and community
In most cases, First Responders (FBI, Law Enforcement, Security, etc.) were aware of the at-risk individuals, but First Responders are limited to responding to incidents/crimes… which is why we need First Responders AND First Preventers!
The world's most dangerous and costly addiction is _______ (revealed below)
Want to know more? Sign up below to have your email verified*. Once verified you will automatically receive the in-depth guide on Community Preventing and First Preventers.
*A valid business email address is required.