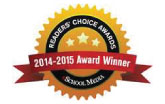 August 1, 2014 — Awareity's TIPS Prevention Platform has been selected as a favorite ed-tech product and solution in eSchool News' annual Readers' Choice Award program.
School leaders are asked to nominate their favorite products and explain how they are using these products to improve teaching, learning, or school administration—and to what effect.
Awareity's TIPS (Threat Assessment, Incident Management and Prevention Services) is an innovative platform of web-based tools designed to empower students, parents, teachers and staff to confidentially and anonymously report potentially harmful student safety concerns, including bullying, weapons, drug/alcohol use, gangs, harassment or intimidation, vandalism, physical/sexual assaults, threats of violence, suicide risk, abuse and others. Once reports are made, TIPS provides a central and secure system for school personnel to proactively investigate the concern, objectively assess the situation, track and document all actions taken and monitor students with ongoing follow-ups and reminders.
"We use the TIPS platform to address school safety and bullying in our schools," said Tenna Whitsel, student services and safe school coordinator for Oklahoma's Tulsa Public Schools. "The best thing about the platform is that it promotes prevention and response before an incident gets out of hand. It is our primary vehicle for documenting response to reports on bullying."
TIPS is not just an incident reporting solution; TIPS is a comprehensive risk management and prevention platform that ensures all incident reports get to the right people in the right places at the right time with the right documentation so people can do the right things. The ability to manage Professional Development and mandated policy, customized training, updates to processes and procedures etc. also makes the TIPS Awareness and Accountability Vault increasingly valuable for school districts looking to cut costs.
About Awareity
Awareity helps organizations prevent the preventable by transforming the status quo and equipping individuals to connect-the-dots. Awareity is equipping organizations of all types to improve risk management and prevent regulatory failures, compliance fines, lawsuits, privacy breaches, safety disconnects, operational challenges, ethical lapses, incident reporting failures, workplace violence and more. Awareity's multi-award-winning TIPS platform offers innovative, proven and more cost-effective ways to connect-the-dots, eliminate embarrassing gaps and realize a better bottom line. For more information visit www.awareity.com.
Contact Information:
Katie Johnson
402.730.0077
info@awareity.com
###