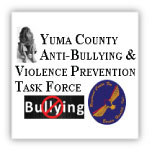 TIPS Connects Yuma County Anti‐Bullying and Violence Prevention Task Force
Task Force launching a community school safety effort
The Yuma County Anti‐Bullying Task Force was formed in 2008 in an effort to raise awareness regarding such a sensitive and difficult issue in rural Yuma County, Arizona. The Regional Center for Border Health, Inc. (RCBH), along with the Yuma County Task Force is launching a reporting website to help improve student safety efforts.
Through the use of Awareity's TIPS, a web‐based incident management and prevention platform, the Community Action Group is encouraging students, parents, staff, and community members to report incidents of bullying, threats of violence, weapons, drugs/alcohol, vandalism, sexting, suicide and other risks.
If someone has information about activities that may warrant concern for the safety of students within Yuma County, the individual can simply access the TIPS REPORT INCIDENT button on the Regional Center's website and anonymously or confidentially report the concern. Proper personnel from the school district selected, as well as counselors from RCBH and appropriate city/county law enforcement, are instantly notified. All prevention efforts and actions taken are documented as team members work together to assess the situation and formulate an effective intervention plan.
"We all have a common goal of protecting our youth ‐ we wanted a platform that would bring community resources together in one place – mental health, law enforcement, schools," says RCBH President and CEO Amanda Aguirre. "The TIPS reporting tool is helping our community be more involved and become aware of concerning behaviors before they escalate, ensuring a safer and more secure environment for all Yuma County students."
The most comprehensive incident management platform available today , TIPS is currently utilized by over 400 schools to identify, prevent and effectively intervene in threatening behaviors, while reducing costs for documentation and training and improving ongoing awareness and accountability.
"While many schools have anonymous incident reporting forms available to their students, we have found what most schools lack are the tools to ensure the right people were notified and the reports are being acted upon in an efficient and timely manner. Letting students report their concerns, and actually knowing how to effectively assess and respond to the situation in accordance to school policy are two different things. TIPS is helping schools take that next step and ensure prevention efforts are successful," says Rick Shaw, CEO of Awareity. "We are especially impressed with the Regional Center for Border Health's efforts to get the whole community involved. Without that connection and coordinated effort between school administration, mental health and law enforcement, at‐risk students will continue to fall through the cracks."

The Community Action Group includes:
 Regional Center for Border Health, Inc.
 Yuma High School
 Kofa High School
 Cibola High School
 San Luis High School
 Alta Vista High School
 Somerton School District
 Somerton Middle School
 City of Somerton
Yuma County Anti‐Bullying Task Force:
 Regional Center for Border Health, Inc.
 Yuma Union High School District
 City of Yuma Police Department
 City of San Luis Police Department
 City of Somerton Police Department
 Yuma County Sheriff's Office
 Yuma County Board of Supervisors
 Cocopah Indian Tribe
 Yuma County Attorney's Office
 Yuma County Superintendents Office
The program is available to ALL Yuma County Schools (Public or Private). For more information call 928‐627‐9222 or e‐mail tips@rcfbh.org.
About Regional Center for Border Health, Inc.:
The Regional Center for Border Health, Inc. a nonprofit 501 (c) 3 organization whose primary mission is committed to improving the quality of life of the residents along the U.S.‐Mexico Border by increasing accessibility to quality training and affordable healthcare in the serving areas of Yuma, La Paz and Mohave Counties.
About Awareity:
Awareity helps leading organizations prevent the preventable and transform the status quo. Awareity is reinventing the way schools improve safety and helping organizations prevent regulatory failures, compliance fines, lawsuits, privacy breaches, safety disconnects, operational challenges, ethical lapses, incident reporting failures, workplace violence and more. Awareity offers an innovative and cost‐effective prevention platform to connect the dots, eliminate embarrassing gaps and realize a better bottom line.
Contact:
Katie Johnson
402.730.0077
info@awareity.com
www.awareity.com
###