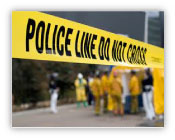 "In the absence of a system capable of identifying (Lopez) as a threat, and because the unit was unaware and unable to address the variety of stressors in (Lopez's) life, Fort Hood was not able to prevent the shooting," lead investigator Lt. Gen. Joseph E. Martz said.
Connecting the dots…
The Army's post-incident investigation report of the April 2 shooting rampage came to the conclusion that the Army did not have the right tools to prevent the shooting…even though there were pre-incident indicators in the days, weeks and months prior.
While officials found no single factor that prompted Spc. Ivan Lopez to go on a shooting rampage April 2, the Army's investigation found instances where he faced "significant and increasing stress in the days, weeks, and months leading up to the shooting."
The post-incident investigation report also revealed gaps information sharing (again) and gaps in awareness of privacy laws (again).
But it also highlighted gaps in information sharing, noting that the 34-year-old's supervisors in some cases thought federal medical privacy laws prevented them from obtaining information to which they should have had access.

After the 2009 Fort Hood massacre, the Army made 78 recommendations for the base to improve its ability to identify the potential risk of violent behavior. In Friday's report, the Army says there was one recommendation it did not implement — better sharing of soldiers' health history — because of constraints on exchanging information between military and civilian behavioral health care providers.

The post-incident investigation report also revealed gaps in reporting of concerning behaviors (again) and taking advantage of 'walking talking social media cameras' – people – who were aware of concerning behaviors but the Army's officials did not have the right tools to get the right information to the right people in the right places so they could do the right things.
Army officials also would have had difficulty recognizing any personal problems leading up to the attack because risk assessment relies on self-reporting and Lopez had been dishonest with his supervisors, the report said.

Evidence-based data from post-incident reports like this one and hundreds of others reveal prevention failures are occurring again and again due to many of the same gaps and disconnects as Fort Hood experienced. The good news for organizational leaders is a proven, central, secure prevention platform does exist and you have walking talking social media cameras – but you have to take immediate action and implement the right tools so your organization is equipped to prevent… otherwise you are waiting and reacting and allowing violence to take place.
http://news.yahoo.com/army-fort-hood-lacked-system-id-threat-2014-185715098.html