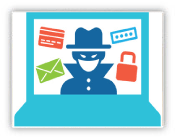 The annual Cyber Security Intelligence Index report offers a high-level overview of the major threats trending across
businesses worldwide over the past year.
Report reveals that over 95 percent of all incidents investigated recognize "human error" as a contributing factor.

The most commonly recorded form of human errors include system misconfiguration, poor patch management, use of default user names and passwords or easy-to-guess passwords, lost laptops or mobile devices, and disclosure of regulated information via use of an incorrect email address. The most prevalent contributing human error?
"Double clicking" on an infected attachment or unsafe URL.
For full report click here.