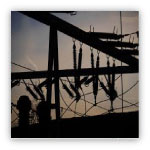 On December 23, 2015 parts of Ukraine were without power and the blackout was due to black hat hackers using the sophisticated BlackEnergy trojan horse malware. (click here for full story)
The BlackEnergy trojan was able to disable parts of Ukraine's power grid leaving organizations and neighborhoods in the dark…are you, your organization and your local power grid utility paying attention?
The BlackEnergy trojan also delivered a version of KillDisk that overwrites data and documents with random data and can make the Operating System unbootable…are you paying attention?
And AGAIN…the way the black hat hackers are getting BlackEnergy into the power grid organization is using spear phishing attacks targeting employees. E-mails are sent to specific employees or other key users and the e-mails look like they are from a trusted sender – in this case the spear phishing e-mails looked like they were from the Ukrainian parliament.
Connecting the dots…
If you want your Threat Assessment Team (TAT) to prevent:
• Black outs
• Having your data overwritten with random data
• Being featured in the headlines around the world (for the wrong reasons)
• Numerous other costly consequences…

…make sure your organization and TAT have the right tools to ensure ONGOING awareness and accountability with ALL EMPLOYEES/USERS as well as third-party service providers.
And if you want to eliminate the pains of:
• Scheduling and tracking training
• Documenting every individual user's acknowledgment of accountability
• Maintaining compliance records for audits/accreditations
• Delivering ONGOING User awareness of policies, threats, roles and responsibilities…
…make sure your organization has the right tools to automate these ONGOING critical processes…or you could end up in the dark!
To learn more about the right tools you organization can implement to keep the dark away…click here.