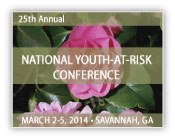 After a very cold and very early start on Sunday morning with a 3 hour delay due to frozen airplane systems and frozen lines (meaning no hot coffee on a very cold plane!), I finally made it to the 25th annual National Youth At-Risk (NYAR) Conference in Savannah, GA. http://coe.georgiasouthern.edu/nyar/
The NYAR conference started with a very motivating and uplifting keynote from Keith Brown – Mr. I'm Possible.   http://www.keithlbrown.com/
Mr. Brown reminded everyone that we can make a difference – a huge difference for all youth if we do that little bit extra and if we do not let negativity discourage us from doing the right things.  You really have to hear Mr. Brown speak…his passion is contagious.
The Georgia Southern National Youth At-Risk Center was approved in March 2013 and their focus includes:
Youth-At-Risk signifies the urgency and seriousness of societal "risks" faced by today's youth and is distinct from "at–risk youth." The NYAR Conference and new Center focuses on the "risky" conditions that threaten youth's well-being which incl
ude a range of factors including poverty, racism, drugs, school violence, gangs, bullying, negative peer pressure, negative school climate, lack of relevant curriculum, passive instructional strategies, disregard for individual learning differences, ineffective discipline systems, low teacher expectations, unqualified teachers, inadequate counseling, teen pregnancy, sexual harassment and dysfunctional home life.
Awareity is proud to be a part of the National Youth At-Risk Conference!  Stay tuned for related news that will be great for schools and at-risk students…