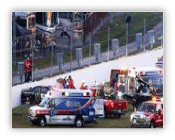 A NASCAR accident on opening weekend has provided several valuable lessons learned, but only if you are listening and ONLY if you take actions to proactively prevent future incidents.
Kevin Harvick gets proactive prevention:
"It's a reaction from the racetrack unfortunately," Harvick said. "I hit the same wall a little further up last year at this particular race and kind of voiced my opinion, and unfortunately I was just a dot on the chart and there was no reaction."

"Now there's a reaction from the racetrack. Hopefully this is a lesson learned. You don't want to have a reaction. Racetracks have to be proactive and … they have to look ahead and look for accidents that might happen."

Connecting the dots…
Pre-incident indicators are almost always (if not always) observed or reported…this incident in NASCAR proves it again!
Prevention does not happen unless the right tools are utilized (in this case SAFER barriers) and Proactive Prevention cannot occur if an organization is not utilizing the right tools to:
• Collect the dots – a central platform so pre-incident indicators are not "a dot on the chart"
• Assess the dots – a central platform so the "right team" can assess all the related dots
• Connect the dots – a central platform so all the "right resources" can take appropriate actions
• Intervene / Prevent – implementing and monitoring to ensure the right actions are taken
Prevention is significantly less expensive than what the incidents and tragedies can cost. And all organizations have money for prevention, but they may be spending it on other non-critical projects.
DIS is two years into a three-year, $400 million grandstand renovation project. Harvick had been critical of the track pouring so much money into improving the grandstands while still having exposed concrete walls.
As an organizational leader, you have a choice:
• Expensive crisis and damage control efforts and seeing your name in numerous headlines on web sites around the world saying your prevention responsibilities failed
• Or you can equip your organization with the right tools to help ensure proactive prevention steps are successful
What is keeping you from taking proactive prevention steps right now?