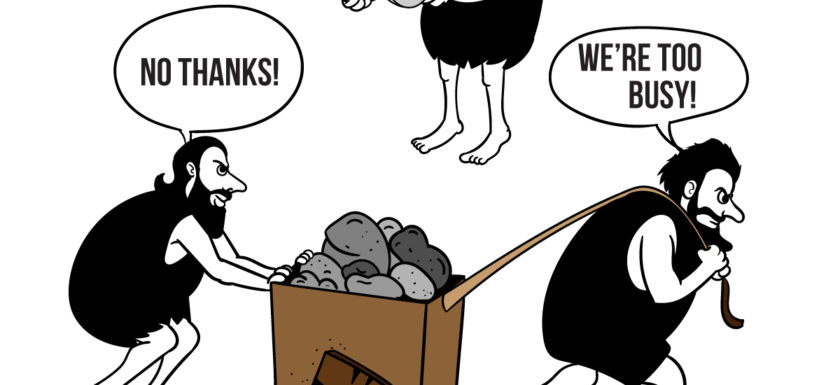 Lessons learned from 20+ years of incidents and tragedies have exposed the dangerous and common gaps, silos, disconnects, and flawed recycled thinking.
Eliminating common gaps, silos, disconnects, and flawed recycled thinking requires business leaders and community leaders to understand the lessons learned and then take real actions to implement the lessons learned.
For example, lessons learned exposed how most (if not all) organizations and communities experiencing shootings, bombings, acts of violence, and other incidents and tragedies HAD:
MULTIPLE Pre-incident indicators
MULTIPLE Incident reporting options
MULTIPLE Sources of indicators and information
MULTIPLE Record management systems
MULTIPLE Community resources
MULTIPLE Law enforcement resources
MULTIPLE Laws prohibiting violence and murder
BUT even with more than enough pre-incident indicators, sources, resources, and laws thousands of schools, colleges, organizations, and communities still failed to prevent preventable incidents and tragedies.  Why?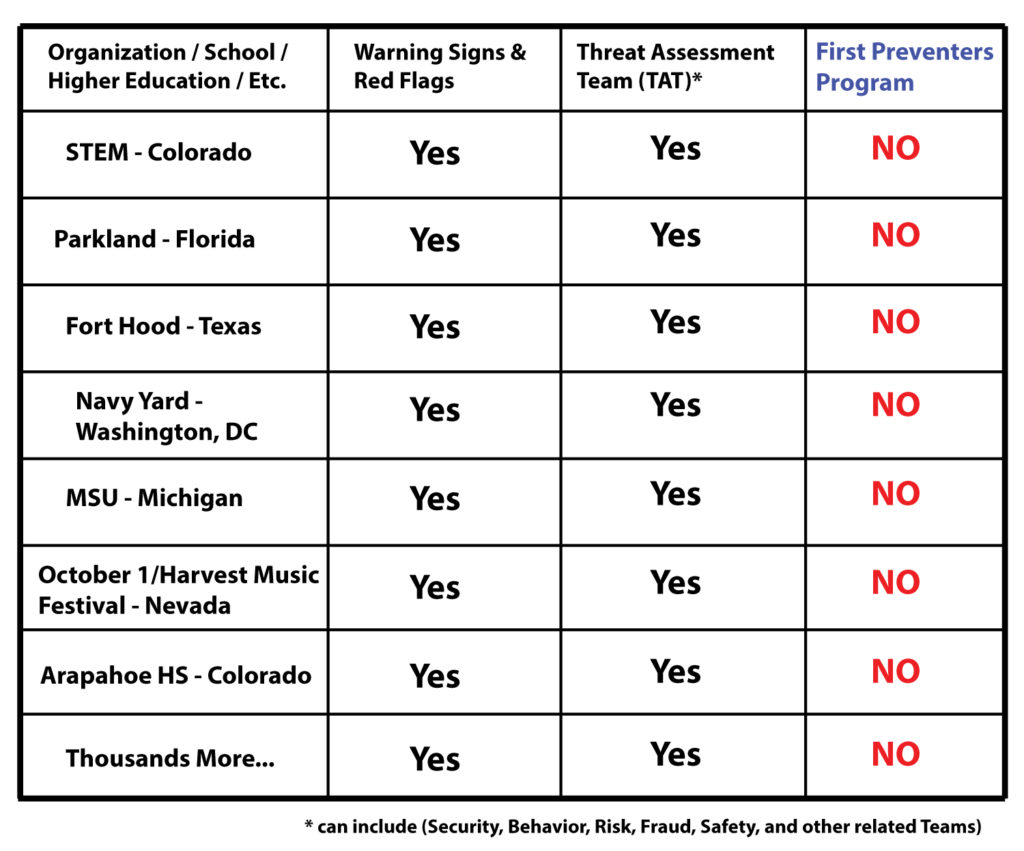 20+ years of lessons learned reveal how failed preventions consistently failed to connect all the dots – indicators, incident reports, sources of information, investigations, assessments, record management systems, community resources (mental health, behavior specialists, social workers, nonprofits, houses of worship, etc.), law enforcement, and others.
20+ years of lessons learned also reveal the "new model" that must be implemented. So, if you are open minded to new ideas and willing to see the new model, click here.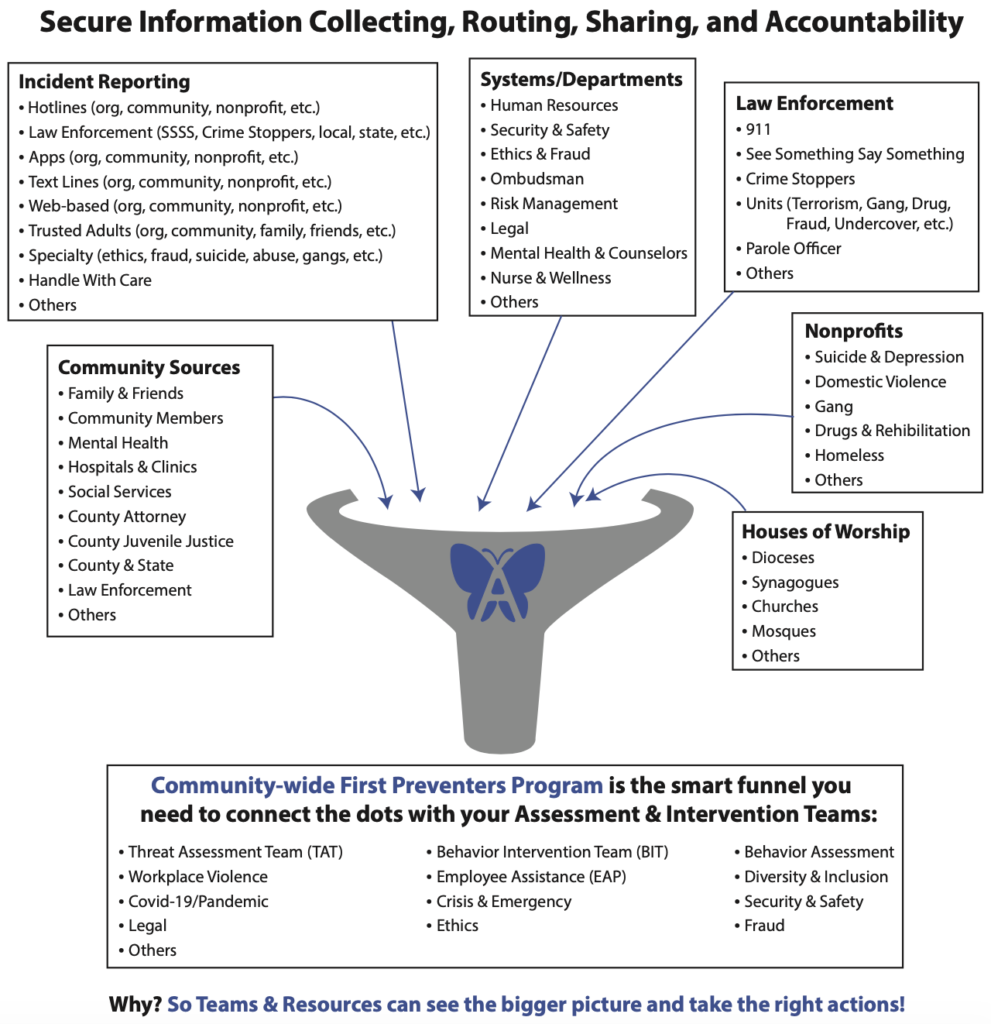 If you are not open minded, you will be like everyone else for the last 20+ years and continue to follow the same recycled thinking, use the same status quo solutions, follow the same reactive response strategies, and see the same costly and tragic results and fail to connect the dots.
Insanity is doing the same thing over and over and expecting different results. – Albert Einstein
Stop the insanity. Now you know there is a new model – The First Preventers Model – it is proven and empowers you to implement 20+ years of lessons learned without having to spend 20+ years and thousands and thousands of hours doing your own research and trying to reinvent the wheel.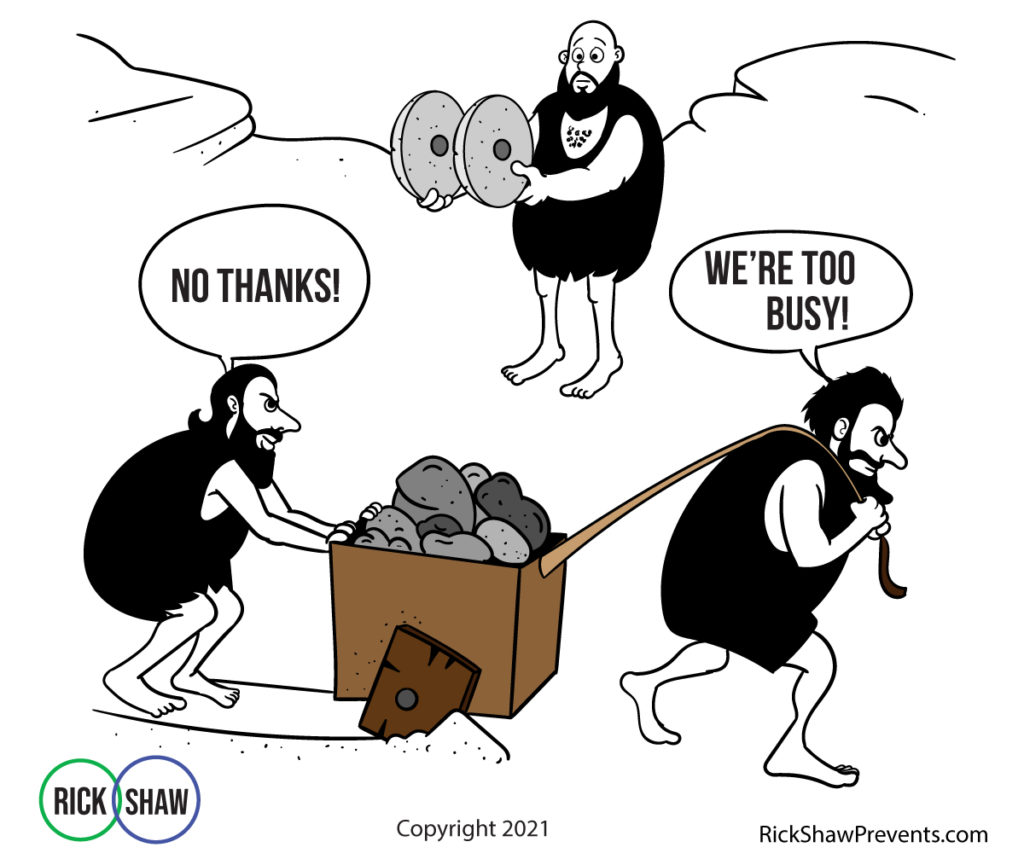 Ready to get rolling and implementing proven lessons learned?

---
Not seeing the form to request the white paper or not seeing your industry? Drop us a line to get more information!