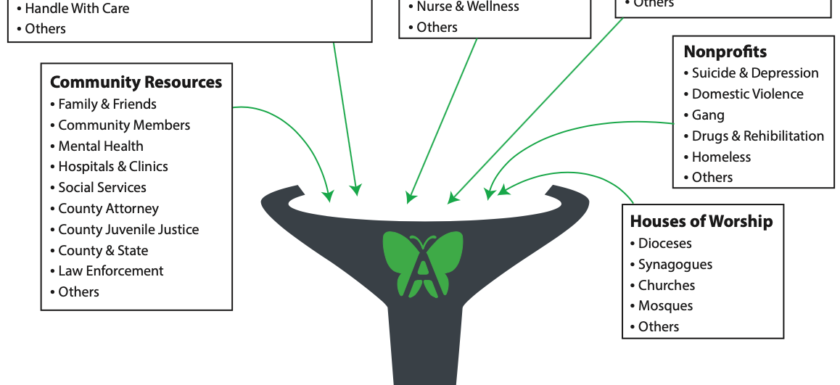 Threat Assessment Teams (TATs) play a very important role in prevention efforts and making organizations and communities safer and are even more critical today due to the COVID-19 pandemic that has created more stressors and even more at-risk individuals for TATs to address. TATs have existed for a very long time in schools, higher education institutions, organizations, and communities, but increasing violence, suicides, and other incidents create concerns and questions on what is missing.
Threat Assessment Teams: A Brief History
TATs are often one of the main topics of discussion after horrific tragedies. For example, after the Columbine Massacre in April 1999 federal entities like the NCAVC, FBI, Department of Justice, Department of Education, and others focused on TATs and issued guidelines for creating and implementing TATs to help prevent future shootings, violence, and other tragedies.
After the shooting at Virginia Tech, the state of Virginia took it a step further and issued guidelines requiring schools to implement a TAT, as well as guidelines on who the members of the TAT should be.
Over the past 20+ years since 1999, TAT guideline documents have been released year after year by FBI, DOJ, DoED, Secret Service, National Threat Assessment Center (NTAC), American Psychological Association (APA), National Association of School Psychologists (NASPA), other associations, state agencies, training institutes, universities, and others.
However, after 20+ years of publishing and sharing TAT guidelines and TAT recommendations, the numbers and frequency of shootings, acts of violence, and other tragedies are increasing in many communities (schools, houses of worship, organizations, etc.).  WHY?  WHAT is missing?
What's Missing? – Recipes, Ingredients, and Tools
Using an analogy, let me explain what is missing. If I handed you the best cookie recipe ever, could you make the cookies with only the recipe? NO.
Just having the recipe is not enough. To make the cookies, you also need the right ingredients AND the right tools.
The same goes with TAT guidelines and recommendations, they are essentially TAT recipes without the ingredients and tools. To actually acheive the desired prevention and safety results, TATs also need the right ingredients and the right tools.
For most TATs, the INGREDIENTS (pre-incident indicators, red flags, information, sources, investigations, resources, TAT members, experts, data, etc.) are almost always available in their organization and community, on social media, with family and friends, with law enforcement, and numerous others.  So, what is missing? Lessons learned and research-based evidence overwhelmingly exposes most failed prevention efforts were because community and organization TAT(s) did NOT have the right TOOLS.
What are the right tools? The right TOOLS include a central community-wide platform to funnel all information and data into one secure information sharing platform and the right TOOLS to collect, share, and connect the INGREDIENTS to see the bigger picture involving the at-risk individual(s), so TATs and other resources are unable to take the right actions at the right times to intervene, disrupt, and prevent.
The Funnel and Tools Threat Assessment Teams (TATs) are Missing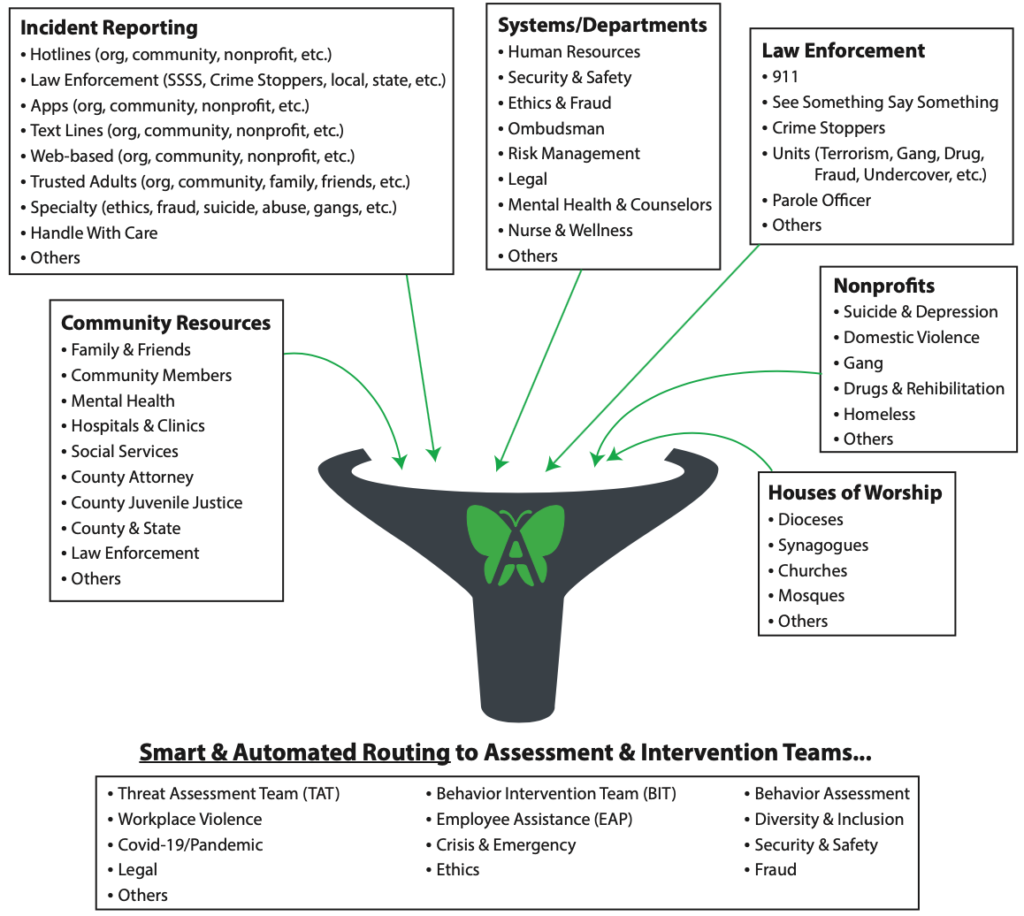 #1: Community-wide Funnel
Why is a community-wide funnel needed? Because research and evidence reveal over and over how the majority of pre-incident indicators (red flags, warning signs, concerning behaviors, etc.) are not getting to the community-wide and organization-wide TATs because they are almost always scattered.
With so many new and different incident reporting options, the pre-incident indicators are scattered across federal agencies (FBI, DHS, USSS, etc.), across law enforcement (see something say something at federal, state, and local law enforcement levels), across law enforcement agencies and units (city agencies, county agencies, terrorism, homicide, gangs, drugs, domestic violence, homeland security, sex crimes, special weapons, traffic, human trafficking, investigations, detention, area commands, community policing, houses of worship, tourism, and others), across county offices, across businesses, across universities, across schools, across mental health, across hospitals, across nonprofits, and across numerous others.
The pre-incident indicators are also scattered across numerous incident reporting silos such as hotlines (federal, state, local, and specialty), website options, text line options, emails, and app options that seemingly increase every day (but download rates and sustained rates of apps are extremely low).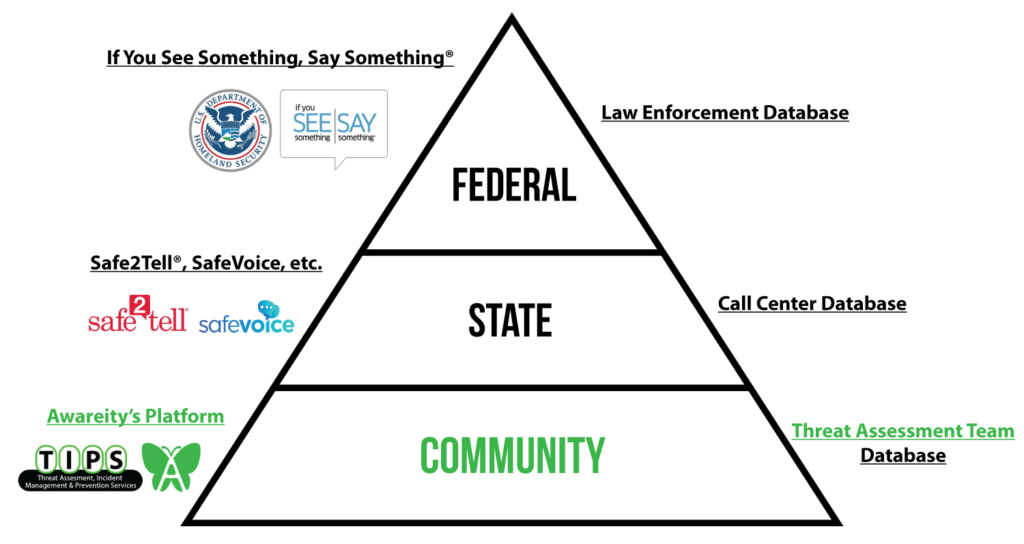 The pre-incident indicators are also scattered across people – trusted adults – which includes family, friends, managers, supervisors, employee assistance, teachers, counselors, nurses, neighbors, social media contacts, and many others.
The strategy to create more and more incident reporting options and systems has proven to be ineffective and dangerous without a secure community-wide funnel. The critically needed indicators end up scattered across numerous silos without the right tools to funnel all the pieces of the puzzle to the appropriate community-wide TAT and/or organization-wide TAT, who are unable to see the bigger picture and unable to take the right actions at the right times.
#2: Secure, Automated, and Immediate Information Sharing
Why are secure, automated, and immediate information sharing tools needed? Funneling everything to everyone is not an option due to FERPA and HIPAA and other privacy, confidentiality, need to know, legal, liability, TAT specialties, and other requirements. The right tools must securely, automatically, and immediately route information according to incident type, location, team, and other appropriate criteria so immediate actions can be taken by the community-wide and/or organization-wide TAT and other resources in order to intervene and prevent incidents before they occur as well as get individuals the help they need before they escalate.
#3: Community-wide Investigations & Assessments
Why are community-wide investigation and assessment tools needed? Once the funneling and the sharing of indicators has taken place, TATs will need to immediately begin investigations about the individuals and the situation to determine risks, threats, and next actions. To assist with investigations, tools are needed so anyone can share additional information confidentially or anonymously using non-law enforcement options. In most cases, assessments (risk, threat, behavior, mental, etc.) will be necessary and may require community or external resources and experts to assist which will require secure, community-wide, and even nation-wide connectivity.
#4: Connecting Information with Internal and External Resources
Why are connecting the dots tools needed? As investigations and assessments are conducted on an ongoing basis and more information is received on an ongoing basis, tools are needed to continuously, securely, and immediately connect the information with the appropriate TAT members as well as internal and external resources who need to be added to the TAT, investigation, assessment, and other related efforts.
#5: Intervention & Monitoring of At-Risk Individuals
Why are intervention and monitoring tools needed? As more and more at-risk individuals are identified in schools, organizations, and communities, TATs need tools to keep track of at-risk individuals, intervention actions, ongoing behaviors, de-escalations, escalations, follow-ups, and keeping all appropriate resources updated on the latest status of each and every at-risk individual and situation. Too many at-risk individuals have "slipped through the cracks and gaps" and caused costly and even tragic results because community-wide and organization-wide TATs did not have the right tools for intervention and monitoring.
#6: Data Analytics & Preventive Intelligence
Why are data analytics and preventive intelligence tools needed? When you have tools to funnel all indicators with your TAT investigations and assessments, your TAT interventions, your prevention results, and your lessons learned into one, central, secure, community-wide platform where you can identify patterns, trends, and other analytics that help provide preventive intelligence for improving overall prevention efforts.
---
When TATs – community-wide, organization-wide, and even nation-wide – are missing the right tools, they are unable to make the recipes (guidelines) into the results (prevention) needed for consistently improving public, school, organization, and community safety.
To see what you are missing, click here right now and help your TAT make your community safer.